A lot of times our potential clients will ask to see some examples of Jones Act cases before they hire us. They're also interested in examples of some settlement amounts for Jones Act cases.
We will typically refer them to our case settlement page. We'll also tell them to view our videos of former clients who can discuss the results they received and the experience they went through with us. These case examples will involve lower back injuries, neck injuries, knee injuries, and other typical injuries that are involved in Jones Act cases.
A Selection of Jones Act Cases
In addition to the above settlement and testimonial pages, we have compiled a PDF of some select Jones Act cases we handled over the years. This PDF contains actual court documents from the cases and provides an inside lookatn how these cases are discussed in court.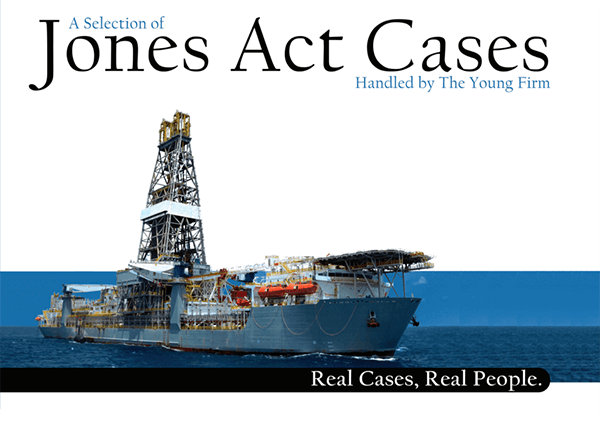 Jones Act Cases Table of Contents
Michael Rayborn v. Diamond Offshore (pg 3-9)
Mr. Rayborn sustained injuries to his left eye when a hose burst, spraying hydraulic fluid into his eye when he was working on an oil rig for Diamond Offshore. Although there was no medical problem diagnosed with Mr. Rayborn's left eye, he continued to experience blurred vision and light sensitivity in his left eye.
It was ultimately determined that this physical problem with the vision in his left eye was due to the severe emotional stress that he suffered during the accident. A jury ultimately awarded him $1,000,000.00 which was reduced by the appellate court. The decision from the appellate court is attached and you can read the appellate court's decision.
Charles Norris v. Bertuzzi Contracting (pg 10-11)
Mr. Norris suffered an injury to his ankle when he was working on a crane barge and an oxygen tank tipped over, striking his ankle. Bertuzzi Contracting refused to offer more than $200,000.00 as settlement prior to trial. At trial, the jury awarded more than $2,000,000.00 in damages which was reduced for Mr. Norris' assigned comparative fault. Ultimately, the trial judge lowered the award finding citing that it had been excessive. The attached decision is from the trial judge when he reviewed the jury's award.
James Lindsey v. Diamond Offshore (pg 12-22)
The attached decision from James Lindsey v. Diamond Offshore is an Order from the Magistrate Judge compelling Diamond Offshore to produce various documents in the case. Diamond Offshore refused to produce the Incident Investigation Report which contained important information regarding the accident and why it occurred.
We were successful in filing a motion to compel and having the court order Diamond to produce the Incident Investigation Report as well as other critical documents in the case. The decision is a typical example of how companies will often refuse to produce critical documents which can greatly assist in proving liability or fault on the part of the company.
Jury Form From Federal Court (pg 23-29)
The attached is an actual jury form completed by the jury at the conclusion of the case. This document is typical of the instructions and jury form given to a federal court jury in regard to a Jones Act and general maritime law claim. It is the jury's responsibility to deliberate and complete the jury form at the conclusion of the case.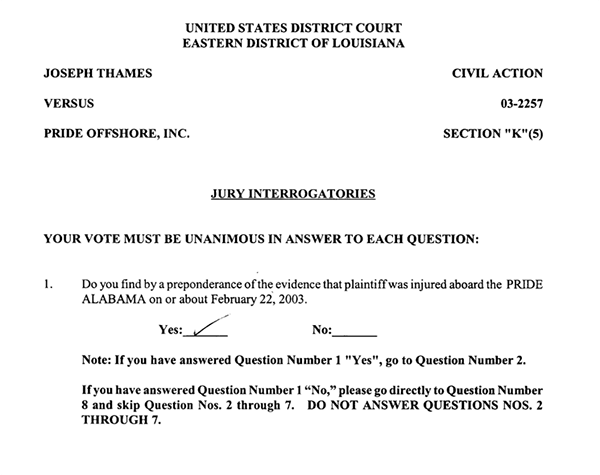 Larry Naquin v. Elevating Boats, LLC (EBI) (pg 30-81)
Mr. Naquin was awarded $2,500,000 by a Federal jury in New Orleans after suffering severe injuries to his heel when a dockside crane he was working in collapsed off of its pedestal. Exhibit 1 is the trial judge's denial of various motions filed by EBI seeking to reverse or lower the jury's verdict. It is a well-written opinion that explains
how a maintenance worker assigned to numerous different vessels in a fleet, and not one specific vessel, can be a seaman,
how an injured seaman may collect damages even if his injury occurs on land, and
the latitude that a jury has in deciding the amount of damages to award in a case.
All in all, this document can provide some helpful insight to anyone considering filing a maritime injury claim. These kind of cases are both complex and specialized and require in-depth knowledge to file and win. If you have any questions or concerns, please contact a maritime attorney at The Young Firm at 504-680-4100. We can evaluate your situation, determine the options available and explain the impact of various elements on your potential case.
More articles on Jones Act Settlements: