Over the years, we have had the privilege of working with injured clients from all across the United States. While most of our Jones Act cases are filed here in Louisiana, we have had clients that lived everywhere from Hawaii to Florida. No client is too far for us to work with.
The Gulf Coast South
While our office is based in New Orleans, most of our clients have come from throughout the Gulf South states Texas, Louisiana, Mississippi, Alabama, Georgia, and Florida. The following are just a few of the cities we serve and where our clients have lived.
Louisiana
Baton Rouge, LA
Cut Off, LA
Galliano, LA
Golden Meadow, LA
Larose, LA
Luling, LA
Matthews, LA
Morgan City, LA
New Orleans, LA
Raceland, LA
Texas
Corpus Christi, TX
Dallas, TX
Galveston, TX
Houston, TX
La Porte, TX
Mississippi
Bay St. Louis, MS
Beaumont, MS
Biloxi, MS
Gulfport, MS
Hattiesburg, MS
Jackson, MS
Lauderdale, MS
Laurel, MS
McComb, MS
Natchez, MS
Summit, MS
Vicksburg, MS
Georgia
Columbus, GA
Fayetteville, GA
Marietta, GA
Valdosta, GA
Stockbridge, GA
Alabama
Andalusia, AL
Auburn, AL
Birmingham, AL
Butler, AL
Geneva, AL
Lockhart, AL
Mobile, AL
Montgomery, AL
Opp, AL
Toxley, AL
Tuscaloosa, AL
Town Creek, AL
Florida
Jacksonville, FL
Panama City Beach, FL
Port Richey, FL
Tallahassee, FL
Tampa, FL
---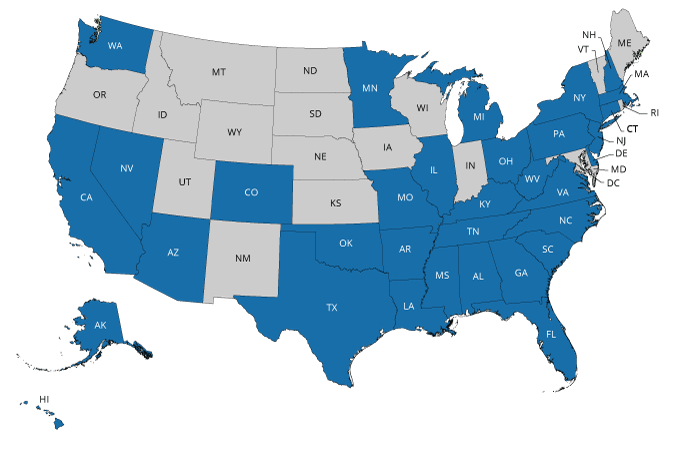 We've helped clients from more than 30 states nationwide and even Canada!
Frequently Asked Questions
What if my city or state isn't listed above? We can still help you with your case. We've handled cases for clients all throughout the U.S.
Shouldn't I just hire an attorney in my hometown? That really depends on whether the attorneys in your hometown are experienced with the kind of case you need to file.
What if my accident happened at sea? Where should I file? This will depend on several factors including the location of the accident, the location of the company, among other factors.
If I'm out of state, will I need to travel to your office? There are times that you will be required to come to our New Orleans office, such as for depositions or to sign your settlement check. However, we generally pay for our clients' travel expenses.
Can I hire you if I live in another state? Absolutely. We would have a phone conference with you and send over any contracts you need to sign electronically.
---
Our Office Location
We are located in New Orleans' central business district right next door to the Eastern District of Louisiana courthouse where many of our cases are filed.
Address
400 Poydras Street, Ste. 2090
New Orleans, LA 70130
504-680-4100