"What is the Jones Act and does it apply to me?"
"Do I have a maritime claim and what should I do?"
"I just want to understand my options."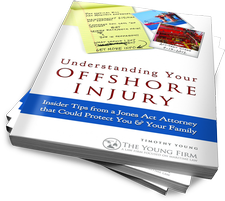 If you would like as much information as possible, please order our FREE book 'Understanding Your Offshore Injury.' You will get more than 50 pages of important rules and laws under the Jones Act and maritime law. We will mail this to you free of cost to help you better understand maritime injury law. This book discusses detailed aspects of the law, and also answers dozens of commonly asked questions about offshore and maritime injury claims.
Simply fill out the form below and we will immediately mail you our book. There is no charge at all to you.