Does an impairment rating in a Jones Act case make any difference to the injured maritime worker? If you have an impairment rating assigned to you after a maritime injury, does that mean that your company owes you a certain settlement amount?
What is an Impairment Rating?
The impairment rating is usually a number that the doctor assigns to your injury. Typically if you have a back injury, it may be a 10 percent or a 15 percent impairment rating. An impairment rating is meant to be the percentage of injury that you have to that part of your body.
A lot of times doctors will assign another number as well: whole body impairment rating. This is generally a much lower number than the number assigned to the part of your body. In other words, you might have a 30 percent impairment rating to your knee, which results in a 5 percent impairment of your entire body. But, as stated before, a higher impairment rating does not mean that you get a higher settlement in a maritime case or Jones Act case.            
Why Your Impairment Rating Doesn't Matter (If You're a Maritime Worker)
Under the Jones Act, the numerical impairment rating itself is not very important and does not necessarily hold any significance as to the value of your case.  In a Jones Act or Maritime Law case, there isn't value assigned to those numbers under the statute, so you will not automatically receive any more or less money based on your impairment rating. In a maritime case and in a Jones Act case, what is critical is whether or not you can go back to the same type of work you used to do.
A lot of times people

will have an impairment rating to their lower back of 5 percent or 10 percent, but the doctor may actually release them to very heavy manual labor. This means that that person can actually go back to an oil rig or a vessel on the water, and make the same amount of money he used to make. So in that situation, an impairment rating is not significant at all. It does not mean that your company owes you a certain amount of money.
By the same token, a lot of times a person may have a very low impairment rating of 3 or 4 or 5 percent to the whole body, but because of the type of injury, the doctor actually recommends that you do not go back to heavy-duty work on an oil rig or on a vessel. In situations like that, you may have a very significant case because you're going to lose a lot of future wages. The impairment rating that you're given after a maritime work injury does not necessarily determine the value of your Jones Act case.
Questions About Your Impairment Rating or Your Jones Act Injury Settlement?
Continue reading: How are Jones Act Settlements Paid?
Call us toll-free at 504-680-4100 if you have any questions about the treatment you've received, any type of an impairment rating you may have or how that may affect your maritime or Jones Act case.
Request Your Free Informational Kit
Learn More About Settlements & Impairment Ratings. Request our Maritime Injury InfoKit.
You'll Learn: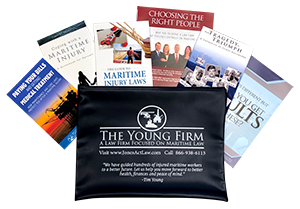 Everything you need to know about workplace injury laws
What you can do to improve your overall settlement
What mistakes to avoid after your injury
"The information is very helpful. I was very impressed with the level of material presented."
"Easy to understand, direct, informative. I was a little overwhelmed by just exactly how much control companies have over our lives. Even though they are aware of the environment we work in."