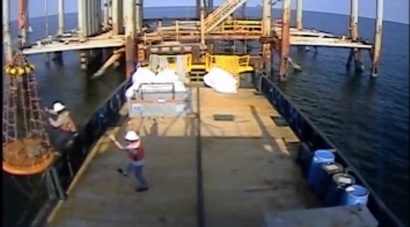 In August 2015, our client was severely injured during a basket transfer from a platform to a nearby motor vessel owned and operated by Cheramie Global Marine L.L.C.
At the time of his accident, he was an A Crane Operator for Island Operating Company getting off of work and was being lowered onto the boat from the platform 80 feet above. The other crane operator that was lowering our client was relying on signals from the deckhand on deck and the Captain in the wheelhouse, however, those signals were not communicated properly. The Captain and the deckhand didn't notice that the basket had lowered too far and when it swung over to the boat, it hit the side of the vessel, throwing our client onto the deck and injuring his back.
According to an expert witness report in our case:
"The cause of this incident was the failure of the operator of the M/V to communicate effectively with the crane operator to either raise the personnel basket or abort the transfer when it became obvious that the basket had been lowered too far. The Captain failed to maintain a situational awareness of the transfer, which allowed the crane operator to misjudge the position of the basket in relation to the vessel, which was the direct cause of this incident. Further, the captain and deckhand were in a better position to visually judge whether or not the personnel basket would clear the bulwark than the crane operator. Their failure to effectively alert the crane operator of the developing situation caused this incident."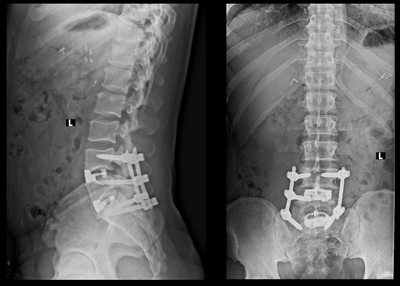 As a result of the captain and the deckhand's negligence, our client had to receive a lumbar fusion at two levels as well as neck fusion. His range of motion was greatly diminished and he was unable to return back offshore to the job that he loved.
Because our client was technically a Longshoreman and there were several parties involved, we ultimately filed three cases on his behalf:
A Worker's Compensation claim against the Louisiana Department of Labor
A Longshore claim against Island Operating Company; and
A General Maritime claim against Cheramie Global Marine.
After a year of fighting with the Louisiana Department of Labor, we proved our client's injury and he was eventually approved for his surgeries. We won his case and settled the worker's comp portion for roughly $40,000 and the general tort suit for $1.06 million.
Our client was very pleased with the settlement and happy to be able to move on with his life.
Quick Case Facts
Settlement Amount: $1.06 Million
Claim Type: Longshore | General Maritime | Worker's Comp
Injury Type: Back & Neck Injury
Age: 40
Job Position: A Crane Operator
Accident Location: Gulf of Mexico
Vessel Type: M/V
Company: Cheramie Global Marine
---
Client with Minor Knee Injury Wins $125,000

$125,000

Claim Type: Jones Act
Injury Type: Knee Injury

Read More

4 Injured in Ship Collision Win $1.8 Million Settlement

$1,800,000

Claim Type: LHWCA
Injury Type: Back, Neck, & Wrist Injuries

Read More

Operator's Negligence Causes Offshore Accident

Confidential

Claim Type: Longshore
Injury Type: Shoulder, Neck, and Back Injury

Read More

Client sustained severe nerve injury which resulted in significant disability

$1,900,000

Claim Type: Jones Act Claim
Injury Type: Leg Injury

Read More

Floorhand Unfairly Blamed for Accident, Gets Large Settlement

Confidential

Claim Type: Jones Act Claim
Injury Type: Head Injury

Read More

QMED Oiler Severely Burned Offshore Gets $5 Million+

$5 Million+

Claim Type: Jones Act Claim
Injury Type: Burn Injury

Read More

Client with severe offshore injury gets $7,150,000

$7,150,000

Claim Type: Jones Act Claim
Injury Type: Brain Injury

Read More

Young Roustabout Injured on Rig Receives Over Half a Million

$750,000

Claim Type: Jones Act Claim
Injury Type: Shoulder, Knee, and Ankle

Read More

Young Deckhand Injured on Golding Barge Gets over $1,000,000

$1,200,000

Claim Type: Jones Act Claim
Injury Type: Hip Injury

Read More

Vessel Captain with Back Injury Receives Settlement

Confidential settlement

Claim Type: Jones Act Claim
Injury Type: Lower Back Injury

Read More

Shipyard Worker Receives Over $600,000 for Injury

$670,000

Claim Type: Jones Act Claim
Injury Type: Head, Neck, Back Injuries

Read More

Settlement of $450,000 on behalf of a Louisiana widow whose husband died aboard a cruise line vessel

$450,000

Claim Type: Wrongful Death Claim
Injury Type: Death

Read More

Scaffolding Contractor Receives Confidential Settlement

Confidential

Claim Type: Jones Act Claim
Injury Type: Head, Neck, Back Injuries

Read More

OIM Injured Overseas Receives Huge Settlement

Multi-million dollar settlement

Claim Type: Jones Act Claim
Injury Type: Burn

Read More

Large Maintenance and Cure Settlement Obtained for Injured Seaman

Confidential

Claim Type: Jones Act Claim
Injury Type: Heart Attack

Read More

Dredge Worker gets $550,000 After Falling Down Stairs

$550,000

Claim Type: Jones Act Claim
Injury Type: Knee and Back Injuries

Read More

Deckhand Thrown Overboard During Docking Gets Settlement

$610,000

Claim Type: Jones Act Claim
Injury Type: Shoulder, Knee and Ankle injury

Read More

Vessel Supervisor Gets Millions After Crane Collapsed

$2,560,000

Claim Type: Jones Act Claim
Injury Type: Foot, Ankle, and Lower Back Injuries

Read More

Client injured while moving a tank of oxygen across the unsafe deck of a barge

$2,400,000

Claim Type: Jones Act Claim
Injury Type: Back Injury

Read More

Client was injured when hydraulic fluid sprayed into his eyes

$1,000,000

Claim Type: Jones Act Claim
Injury Type: Eye Injury

Read More

Client was injured when a bit on a barge broke free and struck him in the ankle

$370,000

Claim Type: Jones Act Claim
Injury Type: Ankle Injury

Read More

Client hurt his knee and lower back while working offshore

$650,000

Claim Type: Jones Act Claim
Injury Type: Knee and Lower Back Injuries

Read More

Client sustained an injury to his lower back

$1,400,000

Claim Type: Jones Act claim
Injury Type: Lower Back Injury

Read More

Client Gets $400,000 for Lower Back Injury

$417,500

Claim Type: Jones Act Claim
Injury Type: Lower Back Injury

Read More

Client was an offshore worker who sustained a back injury while working on the drill floor

$550,000

Claim Type: Jones Act Claim
Injury Type: Back Injury

Read More