When maritime industry standards are ignored, workers, like our client, are the ones who suffer for it. This case illustrates the necessity for platform and boat companies to adhere to industry standards in order to ensure the safety of their maritime workers.
Offshore Rope Transfer Accident Summary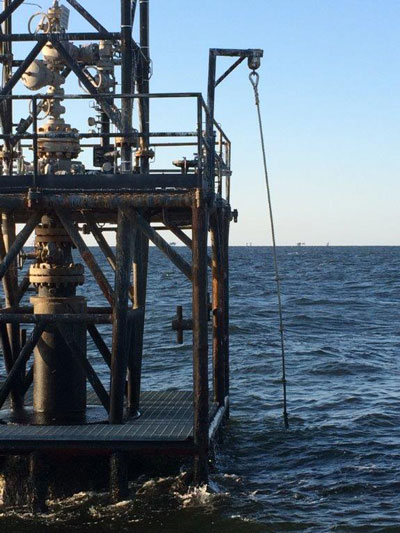 In April of 2016, a Louisiana API inspector was making a routine inspection on a satellite platform when the seas started to pick up. He called for a boat to pick him up and waited on the boat landing with waves lapping at his ankles and knees. When he went to swing from the platform to the boat, the waves knocked him off balance and he slipped and fell into the water.
The boat on location did not have a deckhand or the proper equipment to be able to rescue him and, as a result, had to radio a nearby M/V to retrieve our client out of the water. So for the next twenty minutes, he struggled to keep his head above the water and keep from drowning as he was pummeled by five-foot waves. Eventually, the M/V arrived to rescue him, and after three failed attempts, he was pulled from the water drenched and exhausted, unable to even climb the ladder.
Despite feeling pain in his shoulder and back, the company doctor found nothing wrong with him and released him to go back to work the very next morning. Our client knew something was wrong with his body and was seen by another doctor who confirmed that he had several tears, leaking spinal discs and needed shoulder surgery. He also was suffering from a neck and back injury.
Platform Operator was at Fault for Multiple Equipment Problems
According to one of the expert reports in our case, there were several major equipment problems that contributed to our client's accident and injuries:
The platform personnel landing was not located at least 5 feet above the water line.
The provided swing rope was too short to ensure a far enough swing radius for a safe swing rope transfer.
There was no access ladder for the client to use to climb out of the water and, in fact, the ladder had been missing for over a year without any attempt to replace it.
Because of these unaddressed issues, our client suffered an injury that could have been avoided altogether. Fortunately, we were able to take care of our client's medical bills and settle the case for an undisclosed amount.
More offshore case results: 
Quick Case Facts
Settlement Amount: Confidential
Claim Type: Longshore
Injury Type: Shoulder, Neck, and Back Injury
Age: 39
Job Position: API Inspector
Accident Location: Gulf of Mexico
Vessel Type: Platform
Company: Confidential
---
Client with Minor Knee Injury Wins $125,000

$125,000

Claim Type: Jones Act
Injury Type: Knee Injury

Read More

4 Injured in Ship Collision Win $1.8 Million Settlement

$1,800,000

Claim Type: LHWCA
Injury Type: Back, Neck, & Wrist Injuries

Read More

Back & Neck Injury Case Settles for More than a Million

$1.06 Million

Claim Type: Longshore | General Maritime | Worker's Comp
Injury Type: Back & Neck Injury

Read More

Client sustained severe nerve injury which resulted in significant disability

$1,900,000

Claim Type: Jones Act Claim
Injury Type: Leg Injury

Read More

Floorhand Unfairly Blamed for Accident, Gets Large Settlement

Confidential

Claim Type: Jones Act Claim
Injury Type: Head Injury

Read More

QMED Oiler Severely Burned Offshore Gets $5 Million+

$5 Million+

Claim Type: Jones Act Claim
Injury Type: Burn Injury

Read More

Client with severe offshore injury gets $7,150,000

$7,150,000

Claim Type: Jones Act Claim
Injury Type: Brain Injury

Read More

Young Roustabout Injured on Rig Receives Over Half a Million

$750,000

Claim Type: Jones Act Claim
Injury Type: Shoulder, Knee, and Ankle

Read More

Young Deckhand Injured on Golding Barge Gets over $1,000,000

$1,200,000

Claim Type: Jones Act Claim
Injury Type: Hip Injury

Read More

Vessel Captain with Back Injury Receives Settlement

Confidential settlement

Claim Type: Jones Act Claim
Injury Type: Lower Back Injury

Read More

Shipyard Worker Receives Over $600,000 for Injury

$670,000

Claim Type: Jones Act Claim
Injury Type: Head, Neck, Back Injuries

Read More

Settlement of $450,000 on behalf of a Louisiana widow whose husband died aboard a cruise line vessel

$450,000

Claim Type: Wrongful Death Claim
Injury Type: Death

Read More

Scaffolding Contractor Receives Confidential Settlement

Confidential

Claim Type: Jones Act Claim
Injury Type: Head, Neck, Back Injuries

Read More

OIM Injured Overseas Receives Huge Settlement

Multi-million dollar settlement

Claim Type: Jones Act Claim
Injury Type: Burn

Read More

Large Maintenance and Cure Settlement Obtained for Injured Seaman

Confidential

Claim Type: Jones Act Claim
Injury Type: Heart Attack

Read More

Dredge Worker gets $550,000 After Falling Down Stairs

$550,000

Claim Type: Jones Act Claim
Injury Type: Knee and Back Injuries

Read More

Deckhand Thrown Overboard During Docking Gets Settlement

$610,000

Claim Type: Jones Act Claim
Injury Type: Shoulder, Knee and Ankle injury

Read More

Vessel Supervisor Gets Millions After Crane Collapsed

$2,560,000

Claim Type: Jones Act Claim
Injury Type: Foot, Ankle, and Lower Back Injuries

Read More

Client injured while moving a tank of oxygen across the unsafe deck of a barge

$2,400,000

Claim Type: Jones Act Claim
Injury Type: Back Injury

Read More

Client was injured when hydraulic fluid sprayed into his eyes

$1,000,000

Claim Type: Jones Act Claim
Injury Type: Eye Injury

Read More

Client was injured when a bit on a barge broke free and struck him in the ankle

$370,000

Claim Type: Jones Act Claim
Injury Type: Ankle Injury

Read More

Client hurt his knee and lower back while working offshore

$650,000

Claim Type: Jones Act Claim
Injury Type: Knee and Lower Back Injuries

Read More

Client sustained an injury to his lower back

$1,400,000

Claim Type: Jones Act claim
Injury Type: Lower Back Injury

Read More

Client Gets $400,000 for Lower Back Injury

$417,500

Claim Type: Jones Act Claim
Injury Type: Lower Back Injury

Read More

Client was an offshore worker who sustained a back injury while working on the drill floor

$550,000

Claim Type: Jones Act Claim
Injury Type: Back Injury

Read More