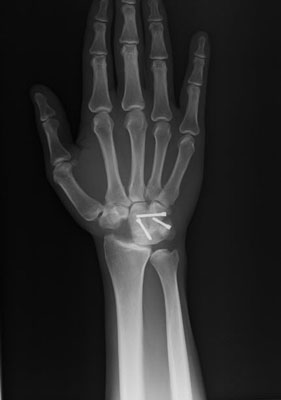 In February of 2016, our clients were injured in a ship collision on the Mississippi River. These four individuals were working in the hull of a large ship when it was struck by a tug on the Mississippi River.  The tug had moved too far over in trying to avoid a ship which was overtaking the tug. When the tug struck the ship, it caused our clients to sustain various injuries as they were thrown about and into the ship itself. 
Our Clients' Injuries Left Them Unable to Go Back to Work
All four clients sustained various injuries including back injuries comprised of torn and bulging discs, a neck injury, a knee injury, and a severe wrist injury.  One client had to undergo two surgeries including a wrist fusion and a lower back surgery, both of which left him with hardware in his wrist and spine. They were all put on disability and several had to attend physical therapy to be able to perform even the lightest of activities.  
Filing a Longshore Harbor Workers' Compensation Act Claim
Because they were not considered Jones Act seamen under General Maritime Law, we filed an LHWCA claim on their behalf. We argued that the owner and operator of the tug that hit our clients' ship was negligent for the following:
Failing to properly train the subject captain on the tug at the time;
Having an untrained and/or inexperienced captain at the wheel of the tug at the time;
Failing to provide proper warning to the ship and workers
Violating the Coast Guard Navigation Rules
Through our investigation and expert reports, we discovered that the crew of the tugboat disregarded several CFRs, including
Title 33 CFR 83.05 Look-out (Rule 5)
Title 33 CFR 83.07 Risk of collision (Rule 7)
Title 33 CFR 83.08 Action to avoid collision (Rule 8)
Had these rules been followed and other precautions taken, our clients would not have been injured in this accident.
Tug Company Fought Back with Limitation of Liability Act
Despite the tug company being clearly at fault for the ship collision, they tried to get out of paying for our clients' damages in full. The tug company invoked a maritime defense known as the Limitation of Liability Act. 
In short, the tug company argued that because the accident and injuries were caused only by the negligence of the tug captain, and not through any fault of the company's management or land-based crew, our clients should be limited to collecting at most the value of the tug which was only $500,000.  
We mounted a strong fight for our clients, arguing many complicated exceptions around the Limitation of Liability Act,  and ultimately obtained a cash settlement of $1,800,000 for our clients, along with a complete waiver of all amounts paid to our clients by workers compensation, in an amount of more than $300,000.  Added to the cash value we received for them, this totaled a recovery of more than $2,100,000 for our clients. We were very happy that our clients could move on with such a recovery that was tax-free to all of them.     
Quick Case Facts
Settlement Amount: $1,800,000
Claim Type: LHWCA
Injury Type: Back, Neck, & Wrist Injuries
Age: 28, 38, 46, & 49
Job Position: Laborers
Accident Location: Mississippi River
Vessel Type: Ship & Tug Boat
Company: Confidential
---
Client with Minor Knee Injury Wins $125,000

$125,000

Claim Type: Jones Act
Injury Type: Knee Injury

Read More

Operator's Negligence Causes Offshore Accident

Confidential

Claim Type: Longshore
Injury Type: Shoulder, Neck, and Back Injury

Read More

Back & Neck Injury Case Settles for More than a Million

$1.06 Million

Claim Type: Longshore | General Maritime | Worker's Comp
Injury Type: Back & Neck Injury

Read More

Client sustained severe nerve injury which resulted in significant disability

$1,900,000

Claim Type: Jones Act Claim
Injury Type: Leg Injury

Read More

Floorhand Unfairly Blamed for Accident, Gets Large Settlement

Confidential

Claim Type: Jones Act Claim
Injury Type: Head Injury

Read More

QMED Oiler Severely Burned Offshore Gets $5 Million+

$5 Million+

Claim Type: Jones Act Claim
Injury Type: Burn Injury

Read More

Client with severe offshore injury gets $7,150,000

$7,150,000

Claim Type: Jones Act Claim
Injury Type: Brain Injury

Read More

Young Roustabout Injured on Rig Receives Over Half a Million

$750,000

Claim Type: Jones Act Claim
Injury Type: Shoulder, Knee, and Ankle

Read More

Young Deckhand Injured on Golding Barge Gets over $1,000,000

$1,200,000

Claim Type: Jones Act Claim
Injury Type: Hip Injury

Read More

Vessel Captain with Back Injury Receives Settlement

Confidential settlement

Claim Type: Jones Act Claim
Injury Type: Lower Back Injury

Read More

Shipyard Worker Receives Over $600,000 for Injury

$670,000

Claim Type: Jones Act Claim
Injury Type: Head, Neck, Back Injuries

Read More

Settlement of $450,000 on behalf of a Louisiana widow whose husband died aboard a cruise line vessel

$450,000

Claim Type: Wrongful Death Claim
Injury Type: Death

Read More

Scaffolding Contractor Receives Confidential Settlement

Confidential

Claim Type: Jones Act Claim
Injury Type: Head, Neck, Back Injuries

Read More

OIM Injured Overseas Receives Huge Settlement

Multi-million dollar settlement

Claim Type: Jones Act Claim
Injury Type: Burn

Read More

Large Maintenance and Cure Settlement Obtained for Injured Seaman

Confidential

Claim Type: Jones Act Claim
Injury Type: Heart Attack

Read More

Dredge Worker gets $550,000 After Falling Down Stairs

$550,000

Claim Type: Jones Act Claim
Injury Type: Knee and Back Injuries

Read More

Deckhand Thrown Overboard During Docking Gets Settlement

$610,000

Claim Type: Jones Act Claim
Injury Type: Shoulder, Knee and Ankle injury

Read More

Vessel Supervisor Gets Millions After Crane Collapsed

$2,560,000

Claim Type: Jones Act Claim
Injury Type: Foot, Ankle, and Lower Back Injuries

Read More

Client injured while moving a tank of oxygen across the unsafe deck of a barge

$2,400,000

Claim Type: Jones Act Claim
Injury Type: Back Injury

Read More

Client was injured when hydraulic fluid sprayed into his eyes

$1,000,000

Claim Type: Jones Act Claim
Injury Type: Eye Injury

Read More

Client was injured when a bit on a barge broke free and struck him in the ankle

$370,000

Claim Type: Jones Act Claim
Injury Type: Ankle Injury

Read More

Client hurt his knee and lower back while working offshore

$650,000

Claim Type: Jones Act Claim
Injury Type: Knee and Lower Back Injuries

Read More

Client sustained an injury to his lower back

$1,400,000

Claim Type: Jones Act claim
Injury Type: Lower Back Injury

Read More

Client Gets $400,000 for Lower Back Injury

$417,500

Claim Type: Jones Act Claim
Injury Type: Lower Back Injury

Read More

Client was an offshore worker who sustained a back injury while working on the drill floor

$550,000

Claim Type: Jones Act Claim
Injury Type: Back Injury

Read More