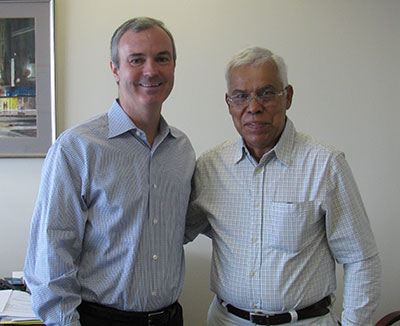 "My name is Dimas Escobar. I was working for 20 years as a tankerman. One day I got hurt on the job. I was hurt in my back, in my arm, and my hands were broken. Every month I had to go to the doctors that The Young Firm set up for me.
My company pulled me off and they told me to wait to get well and then come back. I didn't know how I'd be able to pay my bills. My bills were over two thousand dollars a month. Of course, I had to call Mr. Tim. He told me they could take care of me, and he did take care of me. As a matter fact, I had another problem with the same company and they were not going to pay me. And I called Tim and he immediately sent a letter to the company. He got me my money that was taken away from me.
The staff treated me pretty good in the office. Every time I came to the office they asked about me and all the people were real nice people.
So, I recommend him all the time to everybody, because Tim is the best guy I've met."
"I had to call Mr. Tim. He told me they could take care of me, and he did take care of me." Dimas E. | Summit, MS | Back & Arm Injury
---
Other articles to help you