"They took me with open arms and treated me very well." Jarvis B. | Louisiana | Back & Neck Injury
In August 2015, Jarvis sustained injuries during a botched basket transfer from a platform to a nearby motor vessel. The basket slammed into the side of the boat, knocking Jarvis out of it and onto the deck of the M/V. It took nearly two years to convince the Louisiana Department of Labor that Jarvis was seriously injured and in need of surgery. Thankfully, he was eventually approved for the bone-fusion surgery on his back and neck and we were able to settle his case for over a million dollars.
---
0:07 My position offshore was an A Operator on a production platform, where I was overseeing or in charge of production, weld tests, scheduling maintenance and so forth. I was there for three and half…four years, but my total offshore career is right at 15 years.
Botched Basket Transfer Accident Caused His Back & Neck Injury
0:28 The day of the accident was a typical day. I was being transferred from the platform to the boat when the crane operator kind of slammed into the side of the boat, then I flipped out of the basket onto the boat deck.
0:48 When I went and explained to my supervisor what had happened, and I told him if I feel bad later, I would like to go and see my own doctor. So everything was cool, but as soon as I told my supervisor and them that I need to go in and see a doctor, everybody's attitude change. There was joking and talking to me like a normal day, until after I say that. And when I told them about me wanting to go in, instead of putting me on one of the first flights to land, I think I was one of the last flights to leave, at 5:30 in the evening.
The Company Turned Their Back on Me
1:21 I thought about what I did for that company, sacrificing, and I stayed out there eight…nine…probably like 12 weeks one time. I come out early, and for them to actually turn their back on me and just like "whatever", because I wanted to go see medical attention, because I was hurting.
"That mean they ain't really care for me, like I'm just a number."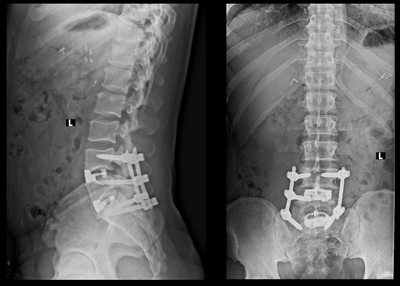 1:42 The injury I received was an F5 and S5 on the lower lumbar, and a neck injury where I have to have, or I had to have a bone-fusion surgery on my lower back. I was using the walker and in the bathroom, an assistant toilet and everything, which is very, very uncomfortable. That's not what I'm used to, I'm used to doing everything on my own. Once again, it was like night and day, so I had to adjust it and still adjusting to it right now to this day. For the rest of my life.
2:18 It was frustrating and something that has happened to you that was completely out of your hands, and you have no control of it. It puts you in a vulnerable position, or it was vulnerable position, where you couldn't do anything but just…
My Family Encouraged Me to Seek Legal Help
2:37 I was contemplating on not calling [an attorney], just go back to work and tough it out, because I know one thing with a lawsuit, it can either way – left or right. I had to sit there and really weigh my options and get some opinions from a couple of people that not been through it, but older generation and what not.
3:01 I called my father, and he was like "Son, I usually don't condone stuff like this, but if you have problems three years in a row, and you seek no medical attention, or attorney or whatever, you're just stuck. You might as well go ahead and seek legal advice. Even if you do go back offshore, how are you going to last out there with your back with the clamming and climbing and bending and swinging from swinging ropes and so forth and so forth?" They really encouraged me to seek legal advice.
Jarvis' First Personal Injury Attorney Couldn't Help Him
3:37 My first lawyer was out of Houston, Texas. I guess they couldn't handle the case, so then they referred me to Tim Young, which was probably the best decision they made, I mean, for me.
Meeting The Young Firm
3:52 I didn't know what to expect like I say, when I did get to speak to Megan and everybody I talked to in the office, it was a sense of relief that I was in good hands.
"She's very knowledgeable and straight-forward and she told me what I need to hear, not what I wanted to hear."
4:16 There was nothing that, no questions that I couldn't ask, that she couldn't answer. She was always straightforward with me. I used to call her 2 or 3 times a week bugging her and she always kept her composure, even though sometimes I was discouraged and frustrated. No matter how I got, she always kept her cool, calm head. She did her job, and I love her to death for that. I appreciate everything she done. Her and the whole team.
The Young Firm Kept Me in the Loop
4:43 They kept me in the loop through emails, phone calls, and what not. There never was a period where I did not know what was going on, so it was a good thing that I'm here at Tim Young's Law firm because they actually kept me in the loop with everything and kept me informed.
They Took Me with Open Arms and Treated Me Very Well
5:04 The staff always treated me with open arms, and I never had a negative experience. If anything was negative, it was probably me calling very frustrated, but they took me with open arms and treated me very well.
"And as far as going to trial, I welcomed it. Because I knew one thing, Megan was in my corner. She's good at what she does, and I had no worries."
Moving On After the Personal Injury Settlement
5:32 With this settlement, I can actually start some things to actually help out me and my family in the future and leave some for my kids. Whatever business I decide to take part of, I can do it.
Jarvis' Advice for Other Injured Maritime Workers
5:51 What I would tell them, if they get hurt offshore, don't second guess it. Seek medical attention. Seek legal advice. Because at the end of the day, I'm sorry to say, offshore, you're just a number. You're just an able body or a strong back. If you're not a foreman or a supervisor, you're just a number. Seek legal advice, Tim Young, Law firm here in New Orleans. You won't regret it, because if you don't, you will. I promise.
I Can Never Say Thank You Enough
6:30 Thank the entire staff. Miss Megan, Joy, Tim, and I don't know all the ladies by name, but I know all of them had a hand in it. I appreciate it. My family appreciates it. Thank you. I can never, ever say Thank You enough.
---
0:07 My name is Megan Misko and I represented Jarvis Bowie and his suit against Sherman Marine and also his Longshore claim against Louisiana Workers' Comp.
Fighting for Jarvis' Medical Benefits
0:20 Jarvis's case was difficult for a number of reasons. The first of which is that we had to fight tooth and nail on getting him his medical benefits approved by the worker's compensation provider. He was recommended to have surgery. It took over a year to get that approved, close to two years. We had to have two different second opinions done. We were close to having to just try the case without him even having the surgery.
0:50 He needed a two-level lumbar fusion. It was very intensive, he was in a lot of pain, and finally after … I guess, technically it was the third opinion that the Department of Labor set him up with. Finally, he says, "Yeah, he does need the surgery." Dr. Sledge, his doctor, who's a fantastic doctor, said he needed the surgery.
1:12 He finally had it and now it was almost a year ago and he's finally on the road to recovery. The fact that it took almost two years to get him there was just incredibly difficult. It's hard to watch a client that you really like to just call and say, "Hey, what's going on? When am I going to get my surgery?" And I'm like, "We're working on it, I promise." So, that was a big one for me even if it hadn't been a massive monetary victory. The fact that he was able to get his surgery done, they paid for it, and he's doing better now is key.
His Previous Attorney said Jarvis Would Only Get $100k
1:43 Some of the other challenges with the case … One of the things which is really interesting is before he came to us, he went and saw an attorney who just did worker's compensation work. I think he had that attorney for a month or two. They told him the most he was ever going to get out of this case was maybe $100,000 to $150,000.
2:06 So, one of the things that is quite impressive is when you can tell them, "Listen, we sold your case for $1.06 million," it's quite a feat. Sometimes your first impression of a case is not really the one that is the one that holds at the end.
Convincing the Defense to Settle the Case was a Challenge
2:23 One of the other issues that we dealt with … and I felt for the defendants, as well, because just the law was not on their side.
2:45 That was one of the biggest issues, was getting the defendant to recognize the severity of the case and of the injuries. So, just took a while, it took several sit-down sessions and finally the Friday before we were supposed to go to trial, everything gets put together and we can reach a resolution that, ultimately, the client is very happy with. He's got money to move on with.
Jarvis is Genuinely a Good Person
3:12 Jarvis is super, super nice. I loved working with that guy, told me stories about who he is and just a genuinely good person. Those are the kinds of people that you are super happy to help out.
---
Other articles to help you