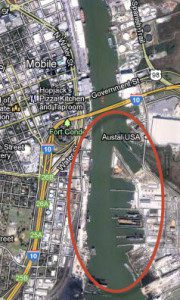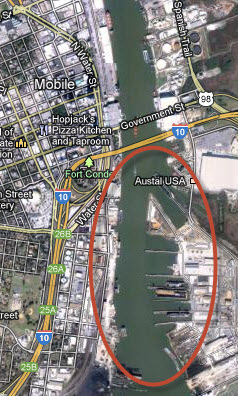 Late Wednesday evening on April 24, 2013, two empty fuel barges caught fire on the Mobile River, east of downtown Mobile, Alabama. Reports claim that seven explosions (some loud enough to be heard 20 miles away) boomed, the first starting around 8:30 p.m. The initial blast was reported to have taken place near the George C. Wallace Tunnel, though no damage was done and the tunnel remains operating.
Three individuals with Oil Recovery Company of Alabama were critically burned and taken to University of South Alabama Medical Center. Two workers were taken to a burn unit, while the other to a surgical trauma unit.
When the barge explosion happened, the fuel barges were docked and undergoing cleaning at the Oil Recovery Co. facility. Originally these barges had been transporting natural gasoline, a liquid that is neither liquefied natural gas nor natural gas.
Kirby Inland Marine owns the barges and has cooperated with investigators to determine the cause of the fire, though the Coast Guard believes that the explosion was an accident.
During the incident, the Carnival Triumph, which was just across the river, had to evacuate some 500 employees.