Thank you for completing our Claim Calculator. Please check your email for a more detailed explanation of your results. Feel free to call our office if you have any questions: 504-680-4100.
Take the Next Step
Request a Free Informational Toolkit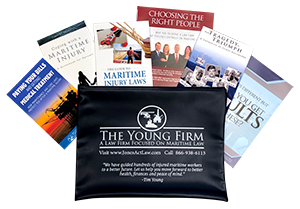 Based on your answers, you may benefit from our Maritime Injury Toolkit. It addresses key concerns such as
how to get your bills paid while you're recovering
how to get the medical treatment you need to get better
the pros and cons of filing an injury claim
what your life would look like during a claim
what could be at stake if you keep the status quo
What's Included in the Maritime Injury Toolkit?
Our toolkit explains what major mistakes you should avoid in your claim, how your future could be impacted, and how maritime law and the Jones Act works.
This personal injury toolkit includes several books, pamphlets, and brochures that break down Maritime Injury Law in easy-to-understand concepts. When you fill out the form, you'll first receive instant access to our Maritime Injury Library which will give you the PDF versions of all of these materials. Within a few days, you'll receive the hard copy of your materials via FedEx.