Do you have a plan that will get you to a better future?
Improvements in your health, your peace of mind and your future won't happen automatically. So we created The Future Focused Formula to help you and our clients just like you who want to move towards their goals: better health, less stress and a more promising future.
Every day we implement The Future Focused Formula for our clients, and every day we see it benefit them tremendously. Let us give you the advantages of a focused, tested formula to help make things better for you.
STEP 1:THE CONFIDENT CLIENT EXPERIENCE
A proven team approach with us guiding the way for you

Easy to understand 'non-lawyer' language

Respect and appreciation for you as our client
STEP 2:THE CLIENT MEDICAL ADVANTAGE
Dedicated staff to set all appointments and tests for you

We will pay for any necessary medical treatments

Summary of your future medical costs, so you know what to expect
STEP 3: THE BEST ACTION BLUEPRINT
Determine your best possible work options

Creating the best, most successful settlement plan for you

Steps to extend the future of your recovery
THE CONFIDENT CLIENT EXPERIENCE
Building a less stressful, more enjoyable future for you
You may be in a very scary place right now.
Like most of our clients, this may be all unfamiliar territory to you and you simply want things to be like they were before your injury. The Future Focused Formula takes away that worry and fear. It's designed to help you understand the process in basic, simple terms – it gives you confidence in the process, and it confirms that you have made the right choice.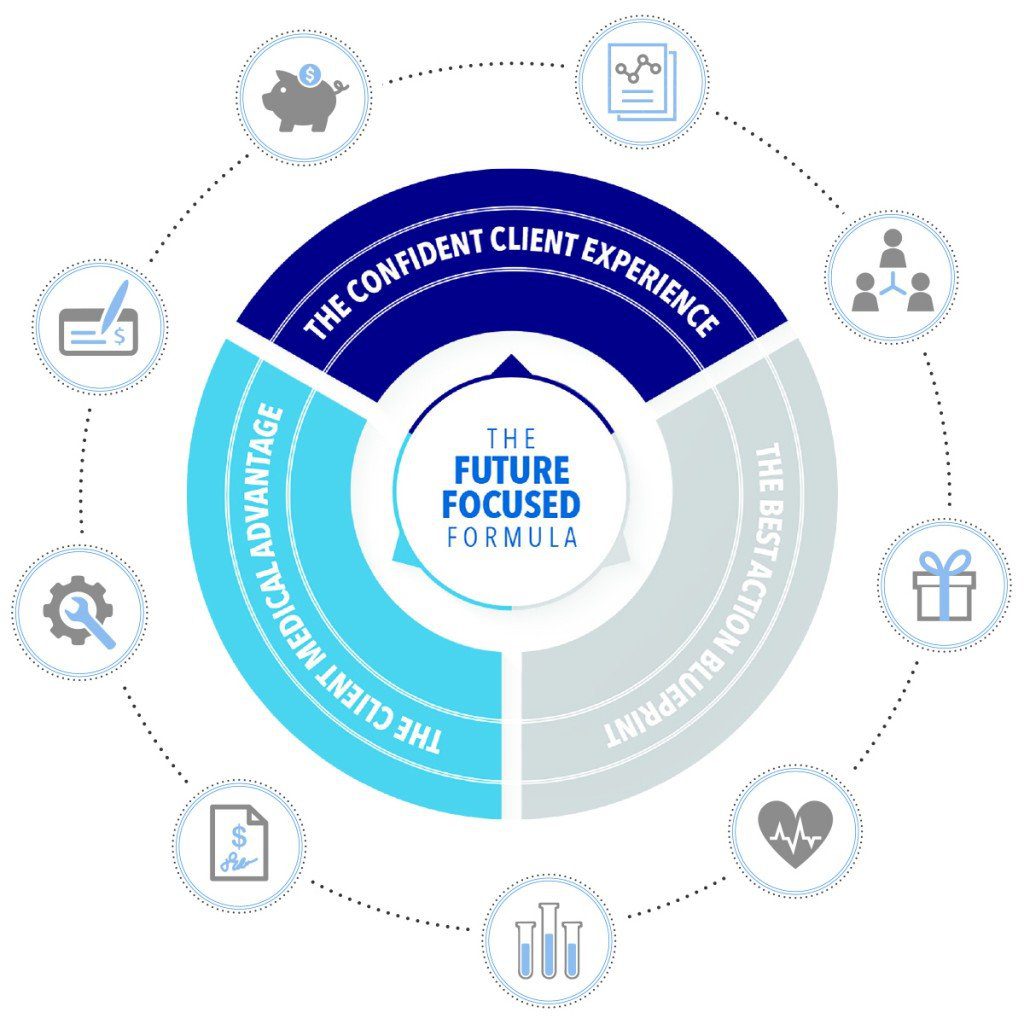 You may worry that you will be the one out front and alone if you decide to file a claim. We make sure you never feel this way as our client. Our Confident Client Experience establishes you and us as a team, with us guiding the way. Our office helps you carefully answer any written questions which the company may request that you answer after your claim is filed. We also meet with you for hours to help you prepare you for any interview or deposition which the company's attorneys may request after your claim is filed. And we're there with you during the whole interview or deposition, making you feel comfortable. Finally, you are invited to attend any interviews or depositions that we request from your co-workers or witnesses to your injury. You don't have to attend these depositions, but we find it helps many clients feel more involved in the process and make better decisions about their future when the time comes.
Many lawyers try to save time and simply talk down to their clients saying things like 'just trust me on this…you wouldn't understand these complicated laws.' We guarantee you will never feel that way as our client. One of the foundations of our Confident Client Experience is making sure you understand how the laws of your case work and what they mean to you and your future. We provide you with our client guides which we have written to explain how maritime laws work and what they mean to you, all written in easy to understand 'non-lawyer' language. A good attorney needs to know how to communicate, and the first thing we communicate to you is how the law works and what that means to your future.
Finally, our Confident Client Experience involves appreciating and respecting you as our client. We have designed a special client-only room in our office where you can relax while visiting our office before or after meetings. On nights which require you to stay in town, we will reserve a room for you at a nice, clean hotel located next to our office. And we gladly validate for free parking in a garage located next to our office building. You will receive our monthly informative newsletter letting you know what we've been up to, which helps you get to know us as your case moves forward. Birthday cards, small holiday gifts and a simple 'please' and 'thank you' all add to your knowing you are greatly appreciated and respected as one of our clients.
THE CLIENT MEDICAL ADVANTAGE
Maximizing your future health
How serious is your injury? What will your future health look like after you have received the best medical treatment possible?
Our Client Medical Advantage begins the minute you become our client. The first step in most cases is helping you select top rated medical physicians to provide the best possible care for you. Our goal is simple—to determine what's medically wrong with you and how can it best be fixed. These physicians have been recognized by state and federal courts as skilled experts in their fields of medicine. Through our assistance, many of our clients have been treated by heads of hospital departments and world renowned physicians who have written extensively on their specialties.
Next, our office provides a dedicated on-staff medical care coordinator to schedule medical appointments and necessary tests for you. After your doctor appointments, medical testing may be recommended for you. Our medical care coordinator carefully reviews each of your physician reports and ensures that any recommended tests are scheduled for you as soon as possible. Detailed letters are sent to you with your next appointment dates, times and locations. It's all one less thing you have to worry about when you become our client and we begin working for you.
But what if your company refuses to pay for your recommended medical testing?
Our office knows that you can't determine what's medically wrong with yourself unless the doctors are allowed to perform expensive medical testing. This cost is one reason why your company will very often refuse to pay for your medical testing or continually delay such testing. Under our Client Medical Advantage, our office will pay for any necessary medical testing which your company may refuse to pay for. That's a real Advantage!
When your case is concluded, what do you do about your medical expenses?
Finally, medical costs are very expensive and they keep increasing each year. Our Client Medical Advantage includes obtaining a detailed report of your future medical costs in cases which require such. If there is a good likelihood you will need future medical treatment or prescriptions, annual testing, physical therapy, medical devices and equipment, or any other medical related expenses, you will receive a future medical costs report detailing the costs of such. This allows you to seek such costs as part of your claim to help protect your future health.
THE BEST ACTION BLUEPRINT
Taking the right steps to map out your best future
Right now, what are the next specific steps you plan to take to make your future better?
If you're like most of our new clients, you really don't have a written out plan to maximize your options. Our Best Action Blueprint provides you with just that – a plan of action tailored to your needs. During our initial meeting with you we will create a specific plan unique to your situation on what immediate steps we will take to start securing your best future. After our meeting you will be provided with a copy of this plan. This may include scheduling you with an expert physician for better medical treatment or critical tests, helping you apply for short or long term disability, making written demands on your company to increase your monthly living payments, or obtaining past medical records so your current injury can be proven and established.
During your case, and as you are receiving necessary medical treatment, you may have to put your maritime license on hold. Our office will assist in having your license placed on medical hold. This step helps protect your future as a maritime worker if you are able to return to maritime work after your medical treatment is completed.
One of the biggest issues you will face is determining the type of work you may be able to return to after your medical treatment is completed. We understand this. If you have physical trouble returning to your old work, we will schedule you to meet with a job expert. This 'vocational' expert will meet with you and help determine the best possible work opportunities for you in light of your background, your skills and where you live. Thinking about a new job position and possible career into the future can be a major step towards getting your future planned out.
We'll help you decide and create a successful settlement your future.
As you approach your court date and it is time to resolve your claim, you will be faced with choosing the best options that are available to you. This is often not as simple as whether you accept a settlement or not. Your best future may include an annuity as part of your settlement package that will guarantee monthly payments to you and your family for years to come, or leaving open a medical fund for future medical treatment. If you have been receiving Long Term Disability, you may be entitled to additional money from this insurance company. Your past medical costs can often be negotiated lower, ensuring you receive more money out of any settlement. A successful settlement plan must be created. Only after all of these steps are explored, can you then decide your best choice to move forward.
We'll walk you through some final steps you can take to better your future.
Finally, even after a successful settlement or trial verdict is obtained for you, there are still some last steps we can help you take to better your future. This can often include providing you with the names of expert financial planners, or even family law attorneys who can prepare a proper will for you to ensure that your recovery is handled as you would like in the future. Steps to extend the future of your recovery are the final benefits of our Best Action Blueprint.